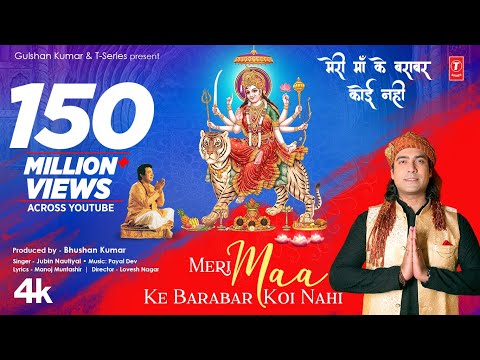 .
Enjoy and stay connected with us for the latest videos like
Jubin Nautiyal: Meri Maa Ke Barabar Koi Nahi | Payal Dev | Manoj Muntashir | Lovesh N |Bhushan Kumar
and remember to subscribe to their YouTube channel.
Which search is trending for Music Videos videos to download ?
Our website is tested regularly to keep it as secure as possible. We work hard so you can download HD videos and audio MP3 from MixZote.com with no risk at all. We guarantee you that the last thing you will download when using our tool is malware.



Gulshan Kumar and T-Series presents Bhushan Kumar's "Meri Maa Ke Barabar Koi Nahi".It is sung by Payal Dev ft. Jubin Nautiyal. The music is composed by Payal Dev and lyrics are penned by Manoj Muntashir. Enjoy & stay connected with us! Here's to make your busy morning beautiful, introducing "Meri Maa Ke Barabar Koi Nahi ", a peaceful tune to mend your hearts. ♪Stream the Full Song Here♪ Spotify: https://bit.ly/MeriMaaKeBarabarKoiNahi-Spotify Hungama: https://bit.ly/MeriMaaKeBarabarKoiNahi-Hungama: Apple Music: https://bit.ly/MeriMaaKeBarabarKoiNahi-AppleMusic Amazon Prime Music: https://bit.ly/MeriMaaKeBarabarKoiNahi-AmazonPrimeMusic Wynk: https://bit.ly/MeriMaaKeBarabarKoiNahi-Wynk iTunes: https://bit.ly/MeriMaaKeBarabarKoiNahi-iTunes SONG CREDITS Meri Maa Ke Barabar Koi Nahi Singer - Payal Dev ft. Jubin Nautiyal Music - Payal Dev Lyrics - Manoj Muntashir Music Producer - Aditya Dev Pluck instruments - Tapas Roy Vocals recorded at Aditya Dev's Studio Mix & Master - Tosief Shaikh Music Label - T-Series Video Artists Nishigandha Waad Bhagya Chandra Aakaash Gupta Production House - Manoj Muntashir Entertainment (MME) Project By Neelam Muntashir (For MME) Director - Lovesh Nagar D.O.P - Naren Gediaa Story and concept - Menka Sharma Chief Assistant Director - Ajit Kamdar Creative Director - Menka Sharma Production Designer - Kamlesh Vaghrechkar Casting Director - Shahid Hasan Costume - Ambarish Kapadia ( Ciinnamon ) Associate Producer - Veer Kanabar Executive Producer - Yogesh Singh Art Assistant - Shivangi Chauhan Production Manager -Jatin Saxena Costume Assistant - Sushil Chaudhary Post Production - Dream Tone Studio Post Producer - Alpa Thakkar (Dream Tone) Editor & Online Packaging - Amol Khanvilkar (Dream Tone ) DI & Colourist - Vishal Nair (Dream Tone) SFX and Mix -Kartik sharma (Dream Tone) Assistant Editor - Ashfaq Shaikh (Mme)